"Finding You is one of my favorite tracks from Elysian, and is probably one of the most personal songs I've written. I've attempted to translate into tones and melodies the delicate narrative of two soulmates caught in the process of conceiving a timeless, love. Even when their paths diverge, their hearts are fated to be joined forever!"

To help you write your own great love story, we are thrilled to announce...

Free shipping on ALL of Lynn's albums and a very special 10% Discount on ALL sheet music!

Wishing all of you the sweetest, most romantic Valentine's Day ever!
Latest news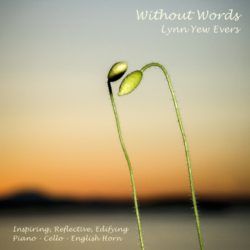 'Without Words' transports listeners to a place of sublime romantic beauty that (as it's namesake suggests) defies description, with its soothing piano melody, enchanting strings and rich woodwinds.' Listen to Without Words Now
Previous
Next
Lynn plays harmonic progressions and beautiful melodies.
Grammy® winner Will Ackerman, who produced Lynn's latest album "Dawn of Peace" says: "Lynn Yew Evers has the heart of a romantic and the hands of an artist. The combination is very powerful. Her music is like a walk through the most beautiful garden you've ever imagined; her compositions imbued with profound emotion and grace. A pianist who has played for the king and queen of her native Malaysia, "Dawn of Peace" is the larger world's introduction to a brilliant new talent."
Lynn Yew Evers is a multitalented concert pianist, whose passion and determination lead her to relocate from Malaysia to the United States in 2009 to further pursue her well-accomplished career as a professional musician. Lynn was born and raised in a vast historical city in Malaysia called Ipoh. As one of the largest cities in Malaysia, Ipoh is known for it's year round tropical climate and magnificent limestone caves and temples that surround the metropolis. While growing up amidst the beauty of a tropical oasis, Lynn developed a deep connection to nature, which also nurtured her inspiration and intention behind her music.
Events

Licensing

Custom Songs

Sheet Music
Upcoming Events
Find Where Lynn is Playing Next...
Events Coming Soon
The events section will be updated shortly. Please check back frequently for updates
LISTEN
Lynn's latest albums